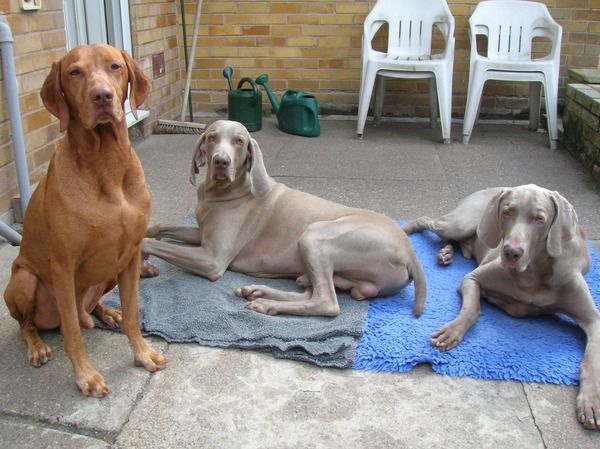 Kalimor Firestorm "STORM " 01/09/1997-09/09/2009 
Owned by Karen and Steve Palmer 
They had this to say about Storm: 
"Having owned the breed for 5 years and with the showing bug taking hold, we decided that we would like another Weimaraner. Having done a lot of research we approached Tina for a dog puppy and in 1995 Kalimor Kavanagh (Thomas)-see Champions page, joined the Palmer family. Two years later we decided that we would like another Weimaraner and were delighted that Tina let us have our second Kalimor- Kalimor Firestorm. 
Storm lives with younger cousin, Kalimor Kent (Rooney)-see Show Dogs, and the ginger Ninja ( Harvey the Hungarian Vizsla). At nearly 12 years old, he now enjoys a very relaxing laid back life; snoozing most of the day but still finding the energy to have a play with his younger cousin, Roo. 
He was shown from a puppy until he was about 7 years old and had a reasonable amount of success in the ring gaining his stud book number ( Qualifying for Crufts for life). 
Storm is a true Kalimor, he lives for food!! He will steal any type of food at any given opportunity!! 
His other love (not) are cats. He hates them! Fortunately, most of the neighbourhood cats know not to step a foot in our garden, except one. It was New Year's Eve and getting close to Midnight. Storm and the others were outside having a sniff around. We suddenly heard this noise, followed by claws scraping on concrete. This black cat had tried to escape by running up the side of the garage, only for Storm to grab it and toss it in the air! We managed to get hold of Storm and the cat ran off. Perhaps it lost one of its nine lives that night but it looked none the worse the next day for its experience". 
Sadly Storm passed away just after his 12th birthday. He is sorely missed and will never be forgotten.