Casey's litter Born 07/05/2012
                Sh Ch Kalimor Cody at Parmelly JW ShCM Hips 5.4 ex Sh Ch Kalimor Casey JW Hips 4.5
Scroll down to bottom for pedigree of pups. 
Casey gave birth to three lovely pups, Mini Cooper, Ruby and Rio, and was a wonderful mother. 
All three pups did well in the show ring and Ruby, who stayed with us, became a Show Champion.
Read about Ruby on her Champion  and Our dogs pages and Mini Cooper by clicking on his name.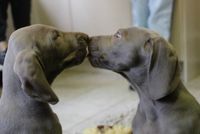 Sireva Rainstorm at Hepton

Just Jasmine around Sireva

Sh Ch Gunalt Carter with Keaek JW

Sh Ch Gunalt Carter with Keaek JW

Sh Ch Gunalt Harris Tweed

Sh Ch Gunalt Carter with Keaek JW