"Sydney"
            Sh Ch Kalimor Accolade at Raystans JW ShCM 3CCs 9 res CCs hips 5.6
scroll down to see his pedigree:  Click here to see more pictures on his show dogs page
         Sh Ch Gunalt Academy at Raystans JW ShCM ex Kalimor Lily JW Born 29/09/2018
Sydney has excelled in the show ring and has a wonderful life with his owner Christine Rayner, his Dad Ricky and lovely Lassie. I am so proud of his achievements. His owner Christine can be contacted on   07881968614.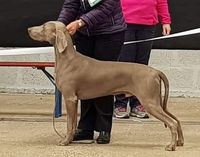 Sh Ch Gunalt Academy at Raystans JW ShCM Hips 4.4

Sh Ch Gunalt Distinction for Brownbank JW

Sh Ch Gunalt Unstoppable from Mianja

Gunalt Idealist for Mianja

Gunalt Crazy About Flimmoric

Sh Ch Gunalt Rumours about Sybaris

Gunalt Adoptable to Ladwey

SH Ch/NZ Ch Carmellis Hot Dikkety Dog at Gunalt ( imp NZ)

Am Ch Graytsky's Smokin' in Havana

Sh Ch Gunalt Contradiction

Sh Ch Gunalt Glamour Girl