"OLIVE"
Scroll down for her show wins and pedigree
                              Kalimor Olive at Nemrac JW  Born 28/09/2018  
                  Sh Ch Gunalt Academy of Raystans JW ShCM ex Kalimor Lily JW 
Olive lives with Carmen Burgess and Family. Carmen had this to say about her: 
"Olive originally was meant to stay with Tina, but Tina had to have a very serious operation and so at eight weeks Olive came to stay. She is quite possibly the naughtiest puppy I've ever owned and having owned dogs all my life, that's a lot of puppies. Full of energy, mischief, hole digging and biting. She is also the most greedy, getting so fat she had to eat sitting down. She was always asking for more and that's how she became Olive, the female version of Oliver. Tina's recovery was going to be tough and take time so it was decided that as the family and my other two Weimaraners had fallen in love with Olive and Olive loved us that she would stay permanently. She has grown into the sweetest, easiest of adults, always willing to please, always wagging her tail. Still pinches my bottom and likes to walk along with my hand in her mouth holding it gently and likes to suck her bed. She has done so well in the show ring, very flashy on the move and wins the judges over with her beautiful eyes and muscular, but feminine body. She gained her JW with ease at 12 months old. She lives life to the full, a natural hunter. I can't thank Tina enough for yet another Kalimor with a perfect and loving temperament who we love and adore. Olive has been very lightly shown since lockdown but we hope to get her out and about more in 2022" 
Her show wins are as follows: 
2nd Limit Bitch @ WCGB Champ Show 2021  
1st Yearling Bitch @ CRUFTS 2020 
1st Yearling Bitch @ Manchester Champ Show 2020 
2nd Junior Bitch @ LKA Champ Show 2019 
2nd Puppy BItch @ NEWS Open Show 2019 
2nd Junior Bitch @ Midland Counties Champ Show 2019 
2nd Puppy Bitch, 1st Junior @ Driffield Champ Show 2019 
1st Puppy Bitch @ Darlington Champ Show 2019 
1st Puppy Bitch, 1st Junior Bitch, 1st Novice Bitch and BBP @ WCGB Champ Show 2019 
2nd Puppy Bitch @ National Gundog Champ Show 2019 
1st Junior @ Grantham & Dis Open Show 2019 
1st Puppy Bitch @ Leeds Champ Show 2019 
1st Junior @ East Anglian Gundog Open Show 2019 
2nd Puppy Bitch @ Windsor Champ Show 2019 
1st Puppy @ Dukeries Gundog Open Show 2019 
2nd Minor Puppy, 1st Puppy @ Birmingham National Champ Show 2019 
1st Minor Puppy @ Weimaraner Association Open Show 2019 
1st Minor Puppy,1st Puppy, BP & Group 4 @ Southern Counties Canine Champ Show 2019 
1st Minor Puppy @ WCGB Open Show 2019 
1st Puppy, BP @ Edwinstowe Canine Society Open Show 2019 
2nd Minor Puppy, 1st Puppy @ NEWS Champ Show 2019  
1st AV Minor Puppy @ East Anglian Gundog Open Show 2019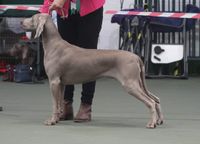 Sh Ch Gunalt Academy at Raystans JW ShCM Hips 4.4

Sh Ch Gunalt Distinction for Brownbank JW

Sh Ch Gunalt Unstoppable from Mianja

Gunalt Idealist for Mianja

Gunalt Crazy About Flimmoric

Sh Ch Gunalt Rumours about Sybaris

Gunalt Adoptable to Ladwey

SH Ch/NZ Ch Carmellis Hot Dikkety Dog at Gunalt ( imp NZ)

Am Ch Graytsky's Smokin' in Havana

Sh Ch Gunalt Contradiction

Sh Ch Gunalt Glamour Girl