" GRACE "  
Scroll down for details and pedigree:
Kalimor Amazing Grace hips 0.0 born 07/05/2019  
Sh Ch Gunalt Academy at Raystans JW ShCM ex Sh Ch Kalimor Ruby JW
Owned and loved by James Kelly and Jamie Green.
For years James has been saying how much he loved my dogs esp. Coco, Casey, Ruby, so it was not a great surprise when he approached me for one of Ruby's babies. There were only 2 girls in the litter so he did not really have a choice but luckily both girls were so lovely that he would have been happy with either of them. Grace has settled in so very well with James and Jamie and with them she has the best life that any dog could have.
 She has been very lightly shown but her few shows are listed below:
2nd Graduate @ Bournemouth Champ Show 2021
1st Puppy & BP @ Coventry Gundog 2020 
1st Puppy, 2nd Minor Puppy @ LKA Champ Show 2019
1st Puppy & BP @HPRA Open Show 2019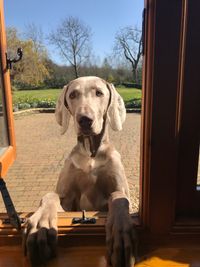 Sh Ch Gunalt Academy at Raystans JW ShCM Hips 4.4

Sh Ch Gunalt Distinction for Brownbank JW

Sh Ch Gunalt Unstoppable from Mianja

Gunalt Idealist for Mianja

Gunalt Crazy About Flimmoric

Sh Ch Gunalt Rumours about Sybaris

Gunalt Adoptable to Ladwey

SH Ch/NZ Ch Carmellis Hot Dikkety Dog at Gunalt ( imp NZ)

Am Ch Graytsky's Smokin' in Havana

Sh Ch Gunalt Contradiction

Sh Ch Gunalt Glamour Girl