" Claude "   Born  31/10/2016
Scroll down to see his details and pedigree:
Kalimor Claude at Parmelly 2 res CCs hips 2.3
Nemrac Invictus ex Sh Ch Kalimor Casey JW
Owned and Loved by Steve and Karen Palmer ( Parmelly) tel: 0115 927 3887
Claude came into the world as a single pup but I managed to foster a couple of boys to keep him company. A huge thank you to Jacky Spavins for trusting me to rear her boys.  At this time Steve and Karen tragically lost Cody and their other dog Mini Cooper ( Kalimor Quartz) was pining badly without his mate. It seemed fate that Claude would go to live with them. He is a typical Weimaraner and can be very stubborn but extremely loving and he was a life saver to Cooper who welcomed him from first sight. The boys have grown so close and are inseparable. The Palmer family have had 6 Kalimors. It all started with Thomas, then Storm, then Roo, then Cody, then Cooper and of course wee Claude. Sadly Cooper ( mini-cooper) passed away and Claude is on his own, but being the independent fellow that he is, he has accepted it and is happy as an only dog.
He has been shown very lightly but his wins are listed below:
1st Limit Dog at Darlington Champ Show 2019
1st Limit Dog at NGA Champ Show 2019
2nd Limit Dog at East of England Champ Show 2019
1st Post Graduate Dog at Manchester Champ Show 2019
1st Post Graduate Dog at Boston Champ Show 2019
1st Post Graduate Dog at GBAS Champ Show 2018
1st Post Graduate Dog at Driffield Champ Show 2018
1st PG & BOB at Leicester City Open Show 2018
1st PG, BOB & Group 3 @ West Bromwich Open Show 2018
1st PG & res CC @ E of England Champ Show 2018
2nd PG @ Blackpool Champ Show 2018
1st PG & BOB at Redditch Open Show 2018
1st Junior @ WCGB Open Show 2018
1st PG & res BOB @ Sutton Coldfield Open Show 2018
1st Junior, 1st PG & res BOB at Lichfield Canine Open Show 2018
1st Junior & PG & BOB @Huntingdonshire Canine Open Show 2017
1st Junior @ Weimaraner Ass. Open Show 2017
1st Puppy Dog @ WCGB Open Show 2017
1st Puppy , 1st Junior and Res CC @ South Wales Champ Show 2017
2nd Puppy, 2nd Junior @ Darlington Champ Show 2017
1st Junior Dog @ Richmond Champ Show 2017
2nd Puppy Dog at City of Birmingham Champ Show 2017
1st Puppy, BPIB & Puppy Group 1 @ Chesterfield and Pinxton Open Show 2017
1st Puppy Dog @ Paignton Champ Show 2017
1st Puppy, BPIB & Puppy Group 1 @ Evesham & Dis. Open Show 2017
1st Puppy, BPIB & 3rd BPIS @ Dukeries Gundog Open Show 2017
1st Minor Puppy Dog at East of England Champ Show 2017
1st Minor Puppy Dog at Windsor Champ Show 2017
1st Minor Puppy Dog @ Blackpool Champ Show 2017
1st Puppy @ Weimaraner Club of Scotland Open Show 2017
1st Puppy Dog @ Border Union Champ Show 2017
1st Puppy, BP, Puppy Group 1 & BPIS @ Melton Mowbray Canine Open Show 2017
1st Puppy, BP & BPIS @ Northern HPR Club Open Show 2017
1st Puppy, BPIB @ North Riding Open Show 2017
1st Minor Puppy, 1st Novice Dog @ Birmingham National Champ Show 2017
1st Minor Puppy Dog @ Weimaraner Association Champ Show 2017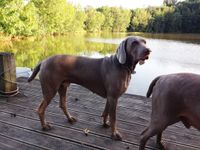 Sh Ch Gunalt Carter with Keaek JW

Sh Ch Gunalt Harris Tweed

Sh Ch Gunalt Carter with Keaek JW