"DAISY"
Scroll down for her details and Pedigree: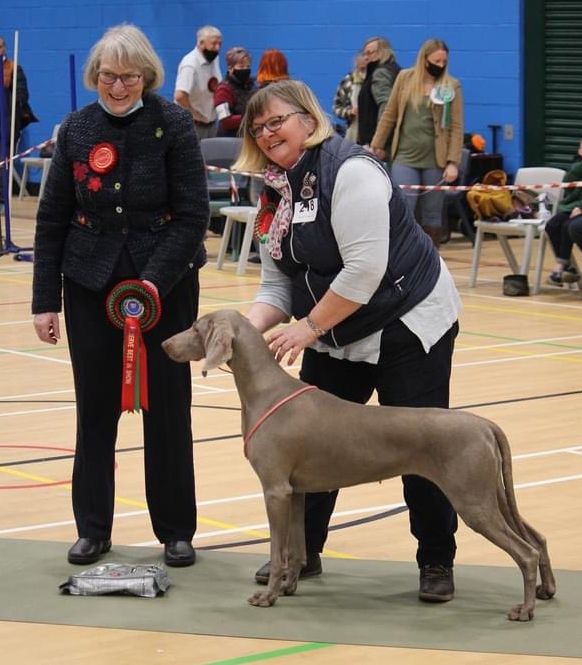 Kalimor Daisy JW Hips 2.3  Born 28/09/2018 
Sh Ch Gunalt Academy of Raystans JW ShCM  ex Kalimor Lily JW   
 Daisy lives in North Yorkshire with Tracy & Patrick Hostler and stable mates Kalimor Hector and Kalimor Lulu, both competing agility dogs.  She is very naughty, but incredibly nice and the whole household absolutely adore this unplanned addition to the family.   Daisy insists on cuddling the other dogs whether they like it or not and never takes no for an answer, be it from human or canine!  She loves to be outside destroying the garden or hunting for mice and is a maniac off lead, never looking where she is going and frequently charging into her owners and flattening them!   
She loves the show ring and especially likes meeting up with all her relatives.  She is also showing promise as a fast and furious agility dog and is learning the ropes well.     
Daisy is Tracy's 4th Kalimor, but first ever show dog and has been only lightly shown while Tracy was learning the ropes and fitting breed showing around her agility calendar.    
Tracy didn't have any aspirations to gain Daisy's Junior Warrant, but when she did so well in the show ring she had a change of heart and realised it was a realistic goal.  They got it at 16 months, which was quite a feat given how lightly she was shown and was Tracy's proudest achievement along with winning her class at Crufts in 2020.  As Daisy blossomed, Tracy got the bug and to say that we are all thrilled with Daisy's amazing success would be an understatement!    
Daisy's wins to date are as follows:  
  1st PG, BOB & Res BIS at Goyt Valley Gundog Open Show 2022 
2nd Limit @ WC of Scotland Champ Show 2021 
1st Limit @ SKC Champ Show 2021 
1st Limit @ Darlington Champ Show 2021 
2nd Limit @ Weimaraner Club of GB 2021 
2nd PG @ Driffield Champ Show 2021 
1st Limit Bitch @ NEWS Open Show 2021 
2nd Limit Bitch @ Leeds Champ Show 2021 
1st PG @ East of England Champ Show 2021 
1st Limit@ NEHPR Open Show 2021 
1st PG Bitch @ East of England Champ Show 2021 
 1st Junior Bitch @ Crufts 2020  
1st Junior @ Yorkshire Gundog Open Show 2020  
2nd Open, 1st AV Gundog @ Cleveland Society Open Show 2020  
1st Open @ Northern Counties Gundog Open Show 2020  
1st Open @ Isle of Ely Champ Show 2020  
1st J, 1st PG, 1st Open, BOB @ Goyt Valley, Gundog Open Show 2020  
1st J, 1st PG, 1st Open, Res BOB @ Dukeries Gundog Open Show 2020  
1st PG, 2nd Open @ Lincoln Canine Soc. Open Show 2019  
1st Junior Bitch @ LKA Champ Show 2019  
1st AVNSC Graduate @ Bridlington & Dis Open Show 2019  
2nd Junior, 1st Yearling, 1st Novice BItch @ Weimaraner Club of Scotland Champ Show 2019  
2nd Yearling, 2nd Novice Bitch @ Gundog Breeds Ass of Scotland Champ Show 2019  
1st PG @ Wigan & District Open Show 2019  
1st Open @ Liverpool Kennel Association Open Show 2019  
1st Junior, 1st Yearling Bitch, BIS @ Weimaraner Association Open Show 2019  
1st Junior, 1st Graduate, res BOB @ Mid Herts Gundog premier Open Show 2019  
1st Junior Bitch @ Midland Counties champ Show 2019  
2nd Puppy Bitch @ Darlington Champ Show 2019  
2nd Puppy Bitch, 2nd Junior Bitch @ WCGB Champ Show 2019  
1st Puppy Bitch, 1st Junior Bitch, BP @ Bournemouth Champ Show 2019  
1st AV Puppy @ Ryedale Open Show 2019  
2nd Puppy Bitch @ Leeds Champ Show 2019  
1st Puppy, 1st Minor Puppy, BP @ Windsor Champ Show 2019  
1st Puppy, 1st Minor Puppy BItch @ Blackpool Champ Show 2019  
2nd Puppy @ North Riding Gundog Open Show 2019   
2nd Puppy @ N of E HPR Open Show 2019  
2nd MP bitch at Weimaraner Association Champ Show 2019  
1st Puppy Stakes @ Rydale Canine Limit Show 2019  
2nd MP, 2nd P bitch @ NEWS Champ Show 2019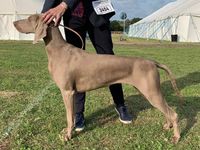 Sh Ch Gunalt Academy at Raystans JW ShCM Hips 4.4

Sh Ch Gunalt Distinction for Brownbank JW

Sh Ch Gunalt Unstoppable from Mianja

Gunalt Idealist for Mianja

Gunalt Crazy About Flimmoric

Sh Ch Gunalt Rumours about Sybaris

Gunalt Adoptable to Ladwey

SH Ch/NZ Ch Carmellis Hot Dikkety Dog at Gunalt ( imp NZ)

Am Ch Graytsky's Smokin' in Havana

Sh Ch Gunalt Contradiction

Sh Ch Gunalt Glamour Girl