" Roxy "  29.06.06 - 06/2019
Scroll down for her details and pedigree: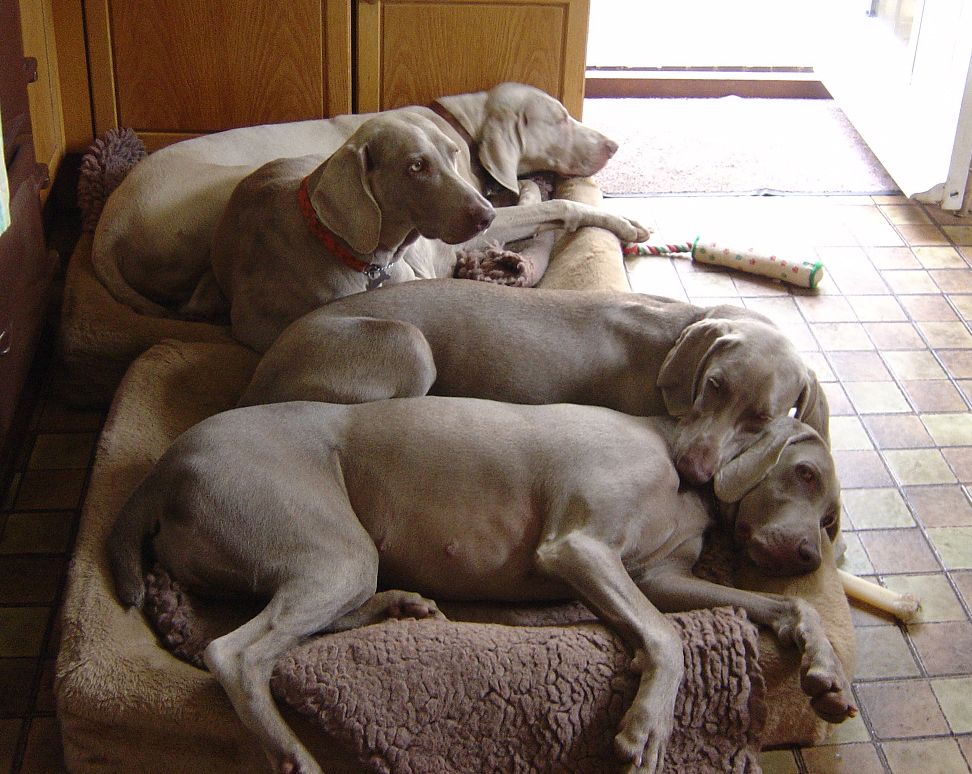 KALIMOR CAN CAN AT AKWAMAR 1 RES CC
Hips 5.5 - owned by Kim and Mary Ward
Ch Easdale Ridge JW Sh CM Hips 4.4 ex Kalimor Chianti Hips 2.2
Roxy was the 2nd Kalimor to go to the Ward household and she was a delight to live with. Mary and Kim say that she fitted in so well and had the sweetest most gentle nature ever.
Roxy had not been shown heavily but had done extremely well at the shows that she had attended.
She had inherited her lovable nature from her parents and she is definitely the Kalimor that I would love to have kept.
Roxy had not been around the showring much but had been concentrating on her PAT dog work. She was a much loved visitor at her local psychiatric unit and has helped in the rehabilitation of many patients.


Roxy passed away in 2019 at the age of 13 and she is greatly missed by everyone who knew her.
Her wins and pedigree are listed below:
1st Limit Bitch Manchester Champ Show 2011
3rd Limit Bitch at Manchester Champ Show 2010
3rd Mid Limit Bitch Crufts 2009
1st Post Grad Bitch & res CC at Midland counties Champ Show
1st Post Graduate Bitch at WCGB Open Show
2nd Post Grad Bitch at Gundog Society of Wales Chmp Shw 08
2nd Post Graduate Bitch at Darlington Champ Show 2008
2nd PG Bitch at Welsh Kennel Club Champ Show 2008
2nd Post Graduate Bitch at South Wales Champ Show 2008
1st Yearling & 1st Post grad Bitch at Windsor Champ Show 08
3rd Post Graduate Bitch at Bath Champ Show 2008
3rd Yearling Bitch at Weimaraner Ass Champ Show 2008
1st Yearling Bitch at WCGB Open Show 2008
1st Yearling Bitch at NEWS champ Show 2008
1st Yearling Bitch at Manchester Champ Show 2008
2nd Junior Bitch at LKA Champ Show 2007
3rd Junior Bitch at Midland Counties Champ Show 2007
2nd Yearling Bitch at WCGB open Show 2007
2nd Junior Bitch & 1st Yearling Bitch - Richmond Chmp Shw 07
2nd Yearling Bitch at City of Birmingham Champ Show 2007
3rd Junior Bitch at Bournemouth Champ Show 2007
2nd Junior Bitch at Paignton Champ Show 2007
3rd Junior Bitch at South wales Champ Show 2007
1st Puppy Bitch at Windsor Champ Show 2007
1st Puppy Bitch at Border Union Champ Show 2007
3rd Puppy Bitch at Bath Champ Show 2007
2nd Puppy Bitch at Birmingham National Champ Show 2007
1st Puppy Bitch at Weimaraner Ass Champ Show 2007
2nd Minor Puppy & 2nd Puppy Bitch - Manchester Chmp Shw 07
 
Kalimor Can can at Akwamar
Sireva Rainstorm at Hepton

CH Carenage Pizazz at Sireva

Just Jasmine around Sireva

Just Jasmine around Sireva

Sh Ch Sireva Sackadillion with Lowerdon

Philomena Theta of Sireva

Sh Ch Gunalt Carter with Keaek JW