Kalimor Boyscout 1 res CC Hips 0.0    
                                Born 28/09/2018    
                Sh Ch Gunalt Academy at Raystans JW ShCM ex Kalimor Lily JW 
Scout went to live with Jacqui and Ian and has never looked back. This is what they had to say about him:  
" We had been looking for a number of years for the right weimaraner puppy to join our family and as a companion to our older weimaraner Bode.  So when we heard that Tina's beautiful Kalimor Lily had a litter of 9 puppies we didn't hesitate to enquire about the possibility of us having one of her pups.   
An inquisitive and extremely naughty little puppy, Scout quickly became affectionately known as the 'little monster' by all those who know and love him and his list of crimes is far too long to mention. Naughtiness aside, he has the loveliest of natures.  Loving, loyal and incredibly laid back, he is an absolute joy to have around.   
We only showed Scout very lightly in 2019 due to him being a very slow maturing young lad, but he has more than exceeded our expectations by qualifying for Crufts at his first Championship Show and going on to be consistently placed in the top cards at every show we have attended.   
Unfortunately a bad bout of Gastroentritis prevented us from attending Crufts this year but we are very much looking forward to showing our gorgeous boy more extensively in the future."   
Only shown very lightly but his show wins and pedigree are listed below: 
1st Graduate and 1st Special Beginners & res CC @ Bournemouth Champ Show 2021
1st Special Beginners and Best SB @ Bath Champ Show 2021
1st Junior Dog, 1st Special Beginners, Best SB in Breed & Group 3 in KC Special beginners Competition at Boston Champ Show 2019 
2nd Junior Dog @ LKA Champ Show 2019 
1st Junior, 1st PG @ Guildford & Dis Open Show 2019 
2nd Puppy Dog, 1st Special Beginners @ Richmond Champ Show 2019 
2nd Puppy Dog, 1st Junior @ City of Birmingham Champ Show 2019 
3rd Junior Dog @ WCGB Champ Show 2019 
2nd Puppy Dog, 1st Novice @ Bournemouth Champ Show 2019 
2nd Puppy, 1st Special Beginners @ Paignton Champ Show 2019 
1st Junior, BP, Res BOB, Puppy Group 2 @ SWECA Open Show 2019 
1st Puppy, BP, res BOB @ Norfolk & Norwich Canine Society 2019 
3rd Puppy Dog, 1st Special Beginners @ E of England Champ Show 2019 
1st Minor Puppy Dog, BPD @ Windsor Champ Show 2019 
1st Junior, BP @ Clacton & Dis Open Show 2019 
2nd Minor Puppy Dog, 3rd Novice @ Bath Champ Show 201 
1st Puppy, BP, BOB & Puppy Group 3 @Gravesend & Medway Society Open Show 2019 
3rd Minor Puppy Dog @ Weimaraner Association Champ Show 2019  
3rd Minor Puppy Dog @ WCGB Open Show 2019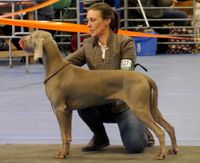 Sh Ch Gunalt Academy at Raystans JW ShCM Hips 4.4

Sh Ch Gunalt Distinction for Brownbank JW

Sh Ch Gunalt Unstoppable from Mianja

Gunalt Idealist for Mianja

Gunalt Crazy About Flimmoric

Sh Ch Gunalt Rumours about Sybaris

Gunalt Adoptable to Ladwey

SH Ch/NZ Ch Carmellis Hot Dikkety Dog at Gunalt ( imp NZ)

Am Ch Graytsky's Smokin' in Havana

Sh Ch Gunalt Contradiction

Sh Ch Gunalt Glamour Girl