" LILY "
Scroll down for more details and pedigree:
Kalimor Lily JW Hips 4.5 1resCC born 16/03/2016 
Sh Ch Kalimor Celtic Storm at Aarranz JW ShCM ex Sh Ch Kalimor Ruby JW 
Scroll down to see her pedigree:
Lily has become a much loved part of our family. She gave birth to a beautiful litter of 9 puppies in September 2018. All of these have turned into wonderful adults. Four are being shown regularly and all have gained their JWs. One was top winning puppy for 2019. Lily is now lightly shown as she does not really enjoy it and I am busy showing her son Kalimor Parker JW and her half sister Kalimor Gem who won Best Puppy bitch at Crufts 2020. Lily is now retired from the show ring and enjoying life here at Marden Hill. 
Some of her wins are listed below: 
1st Graduate Bitch and res CC at Gundog Society of Wales Champ Show 2017 
2nd yearling BItch at WCGB Open Show 2017 
2nd yearling Bitch at SWCA Champ Show 2017 
1st PG Bitch at Darlington Champ Show 2017 
2nd PG Bitch at WCGB Champ Show 2017 
1st Junior & BOB at Leicester Canine Open Show 2017 
1st Junior, 1st Graduate at West Bromwich and Wednesbury Open 2017 
1st Junior at Thetford & Dis Open Show 2017 
2nd Junior at Nat. Gundog Champ Show 2017 
2nd Junior, 3rd Yearling Bitch at Paignton Champ Show 2017 
1st Junior & 1st Graduate at Leeds Champ Show 2017 
2nd Junior & 2nd Yearling at E of E Champ Show 2017 
3rd Junior at Windsor Champ Show 2017 
2nd Junior at Blackpool Champ Show 2017 
1st Junior & 1st Graduate at WC of Scotland Open Show 2017 
3rd Junior & 1st Novice at Border Union Champ Show 2017 
3rd Junior &1st Novice at Three Counties Champ Show 2017 
1st Junior & 2nd Yearling at SKC Champ Show 2017 
3rd Junior & 1st Novice at National Champ Show 2017 
1st Junior, 1st Novice & Res Best Bitch @ WCGB Open Show 2017  
1st Puppy Bitch & Best Puppy at Crufts 2017 
2nd Puppy Bitch at Manchester Champ Show 2017 
1st Puppy Bitch at Boston Champ Show 2017 
2nd Minor Puppy at WCGB Open Show 2017 
1st puppy and BP at East Anglian Gundog Open Show 2016 
2nd Minor Puppy at SW KA Champ Show 2016 
3rd Minor Puppy at Driffield Champ Show 2016 
3rd Minor puppy at WCGB Champ Show 2016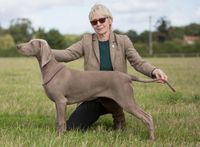 Sh Ch Gunalt Carter with Keaek JW

Sh Ch Gunalt Harris Tweed

Sh Ch Gunalt Carter with Keaek JW