"GEM"
                                                                           Kalimor Gem 2CCs 1 res CC hips 2.5 Born 07/05/2019       
                                                Sh Ch Gunalt Academy of Raystans JW ex Sh Ch Kalimor Ruby JW
Scroll down for her details and Pedigree: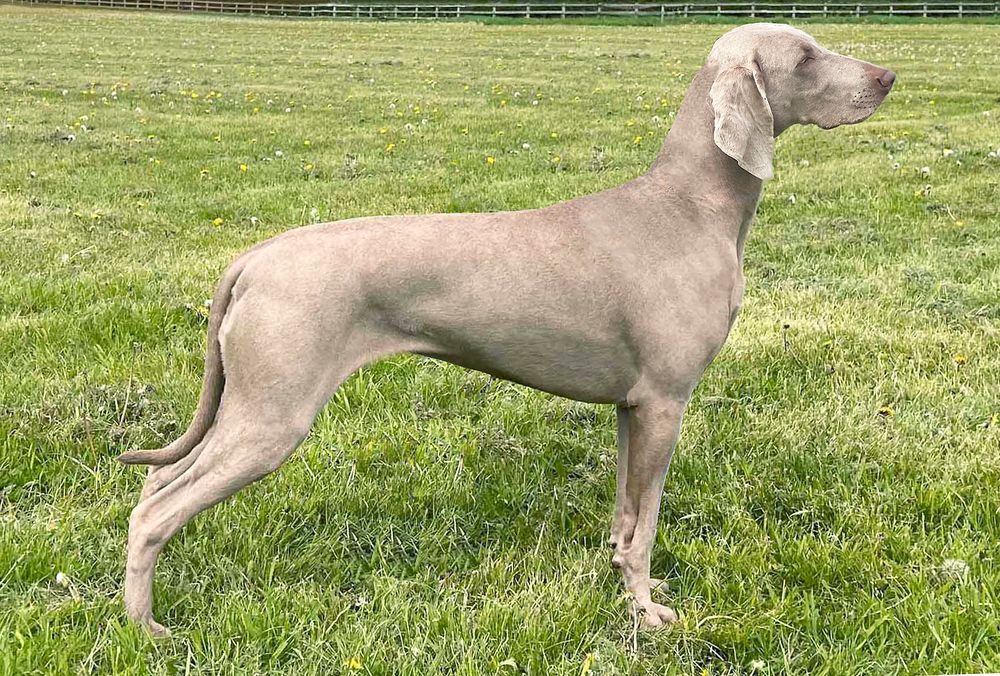 Gem is a wonderful addition to our family and is keeping me on my toes. She is full of love and life and so far seems to enjoy the show ring. Constantly reminding me of her beautiful Mum, Ruby, who we lost so tragically. Read more about Gem on her Our Dogs page. Sadly she missed a large part of her young show days due to lockdown but thankfully, apart from missing her JW title, she is none the worse for it. Gem gave birth to 4 beautiful puppies on 12/02//2023. She ventured back into the show ring at The National Champ show and gained a 2nd in Open bitch. She will be out and about again in selected shows in 2023.
Her wins are listed below and keep scrolling for her pedigree:
2nd Open Bitch @ Three Counties  Champ Show 2023
1st Open Bitch & res BIS @ Weimaraner Association Open Show 2023
1st Open Bitch at Bath Champ Show 2023
1st Open Bitch & res CC @ Weimaraner Association Champ Show 2023
2nd Open Bitch at The National Champ Show 2023
1st Open & Bitch CC @ LKA Champ Show 2022
1st Open & BOB at Mid Herts Gundog Open Show 2022
1st Open, BOB & Group 4 @ East Anglian Gundog Open Show 2022
1st Open & BOB @ Windsor Gundog Open Show 2022
2nd Open @ Richmond Champ Show 2022
1st Special Breeders & 1st Stakes @ WCGB Champ Show 2022
1st Open, BOB @ Leicester City Open Show
2nd Open @ National Gundog Champ Show 2022
3rd Open @ Paignton Champ Show 2022
3rd Limit@ Windsor Champ Show 2022
3rd Limit @ Blackpool Champ Show 2022
3rd Limit @ WA Open Show 2022
1st PG @ Southern Counties Champ Show 2022
1st Open, BOB @ Gravesend & Medway Open Show 2022
1st Open, BOB @ Redditch & Dis Open Show 2022
1st PG @ Birmingham Champ Show 2022
1st PG @ WA Champ Show 2022
2nd PG @ NEWS Open Show 202
1st Open, BOB @ Norfolk & Norwich Open Show 2022
1st Open, BOB @ Hampshire Gundog Open Show 2022
1st Open, BOB @ Windsor Gundog Open Show 2022
1st Open, BOB @ Retford Canine Society Open Show 2022
1st Open, BOB @ Guildford & Dis Open show 2022
3rd PG @ Crufts 2022
1st Open, BOB @ Coventry Gundog Open Show 2022
1st Open @ WATH Open Show 2022
2nd PG @ Boston Champ Show 2022
1st PG @ WA Champ Show 2021
2nd PG @ Richmond Champ Show 2021
1st PG @ National Gundog Champ Show 2021
1st PG @ NEWS Champ Show 2021
2nd PG @ NEWS Open Show 2021
2nd PG @ Leeds Champ Show 2021
1st PG @ WCGB Open Show 2021
1st Junior, 1st PG & Best Puppy @ Retford & District Canine Open Show 2020
1st Puppy and Best Puppy Bitch @ Crufts 2020
1st Puppy, 1st Junior @ Guildford and District Open Show 2020
1st Puppy, BP & Res BOB @ Cheltenham and District Canine Society
2nd Puppy,1st Junior @ Isle Of Ely Canine Society Open Show 2020
1st Puppy, 1st Junior, BP, Group 1 @ Coalville & District Canine Society 2020
2nd Minor Puppy, 2nd Puppy @ Boston Champ Show 2020
3rd Puppy, 1st Junior @ Luton Canine Open Show 2019
1st Any Variety Puppy @ Lincoln Canine Society Open Show 2019
2nd Minor Puppy, 3rd Puppy @ LKA Champ Show 2019
2nd Puppy, 2nd Junior @ Coventry Gundog Open Show 2019
1st Minor Puppy, 2nd Puppy @ Weimaraner Club of Scotland Champ Show 2019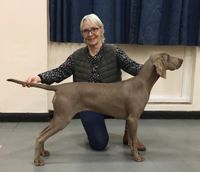 Sh Ch Gunalt Academy at Raystans JW ShCM Hips 4.4

Sh Ch Gunalt Distinction for Brownbank JW

Sh Ch Gunalt Unstoppable from Mianja

Gunalt Idealist for Mianja

Gunalt Crazy About Flimmoric

Sh Ch Gunalt Rumours about Sybaris

Gunalt Adoptable to Ladwey

SH Ch/NZ Ch Carmellis Hot Dikkety Dog at Gunalt ( imp NZ)

Am Ch Graytsky's Smokin' in Havana

Sh Ch Gunalt Contradiction

Sh Ch Gunalt Glamour Girl