"HUDSON"
 Scroll  down for his show wins and pedigree: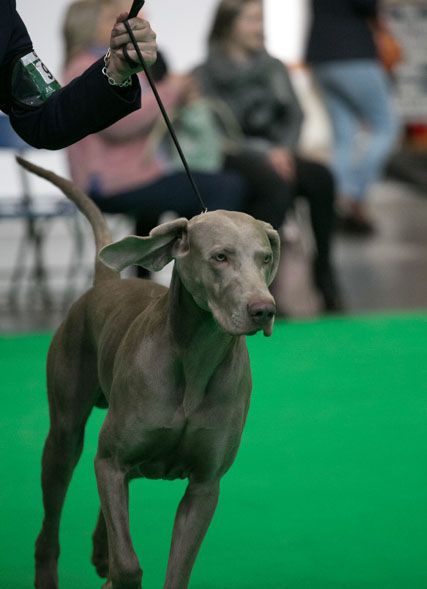 Kalimor Hudson      Born 07/05/2019  
Sh Ch Gunalt Academy at Raystans JW ShCM ex Sh Ch Kalimor Ruby JW 
Hudson is owned & Loved by Debra Kerr ( mob: 07814689179) and her other two Weimaraners and has fitted in beautifully.  He is a very loving but naughty boy and his show career, although  short has so far been successful. Debra has a dog walking business and Hudson loves nothing more than galloping around with his pals. Hopefully he will be back at more shows when the world has returned to normal. 
Below are his show wins so far:
1st PG Dog @ East of England Champ Show 2021
1st PG Dog at South Of England Champ Show 2021
2nd Puppy Dog at Crufts 2020 
1st Puppy, 1st Junior, BP & Puppy Group 1 @ Matlock & Dis. Open Show 2020
1st Minor Puppy, 2nd Puppy @ Boston Champ Show 2020
2nd Junior, 1st PG @ Ashbourne & Dis Open Show 2019
1st Minor Puppy, 1st Puppy, BPD @ LKA Champ Show 2019
1st Puppy, BP @ Guildford & District Open Show 2019
2nd Puppy @ Bolsover & Dis Open Show 2019
1st Minor Puppy, 1st Puppy, 1st Novice, BPD @ Weimaraner C of Scotland Champ Show 2019
2nd Puppy @ Gundog Breeds Ass. of Scotland Champ Show 2019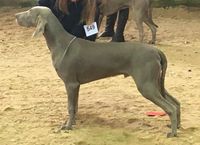 Sh Ch Gunalt Academy at Raystans JW ShCM Hips 4.4

Sh Ch Gunalt Distinction for Brownbank JW

Sh Ch Gunalt Unstoppable from Mianja

Gunalt Idealist for Mianja

Gunalt Crazy About Flimmoric

Sh Ch Gunalt Rumours about Sybaris

Gunalt Adoptable to Ladwey

SH Ch/NZ Ch Carmellis Hot Dikkety Dog at Gunalt ( imp NZ)

Am Ch Graytsky's Smokin' in Havana

Sh Ch Gunalt Contradiction

Sh Ch Gunalt Glamour Girl