" DEEDEE "    Born 01/04/09
Scroll down for her details and Pedigree:
Kalimor Deedee JW 2res CCs
born 1/4/09
Sh Ch Ansona Gamekeeper at Aarranz JW Sh CM ex Sh Ch Kalimor Tula JW Sh CM

" Deedee" owned by Jan & Ken Toseland

Deedee has entered the Toseland household like a whirlwind and things have never been the same since.
She is loved by all the other dogs and Jan & Ken are delighted as well as exhausted by her. Always on the go, she has kept the Toseland family on their toes. She is now happily retired and enjoys being loved by all.
1st Limit Bitch and Res CC at Three Counties Champ Show 2012
1st Limit Bitch and res CC at Boston Champ Show 2012
2nd Limit Bitch at Midland Counties Champ Show 2011
2nd Post Graduate Bitch at Birmingham Champ Show 2011
3rd Post Graduate Bitch at Nat Gundog Champ Show 2011
2nd Post Graduate Biitch at E of England Champ Show 2011
1st Open & BOB at Derby County Open Show 2011
1st Post Graduate at Weimaraner Association Champ Show 2011
1st Post Graduate at LKA 2010
1st Yearling at Midland Counties Champ Show 2010
1st Junior, res BOB at Leicester Gundog 2010
2nd Junior, 2nd Yearling at Leeds Champ Show 2010
1st Junior Bitch at Birmingham Champ Show 2010
2nd Junior Bitch at NEWS Champ Show 2010
1st Puppy & BPIS at Weimaraner Association Limit Show 2010
1st Puppy & BP at Sheffield & District Open Show 2010
1st Pupppy & BP at Wath West Melton & District Open Show 2010
1st Puppy, 1st Junior, BP, BOB & PG4 at Matlock & District Open Show 2010
1st Puppy, 1st Junior & BP at Leicester Gundog  Open Show 2010
1st Minor Puppy Bitch at Manchester Champ Show2010
1st Junior & BP at Ashbourne CS Open Show 2009
1st Puppy, BP & Puppy Group 3 at Lincoln CS Open Show 2009
1st Minor Puppy Bitch and BP Bitch at LKA Champ Show 2009
1st Junior,BP & BOB at West Torrington & District Open Show 2009
2nd Puppy at Leicester Gundog Open Show November 2009
1st Minor Puppy Bitch & BPIS at WA Open Show 2009
1st Minor Puppy Bitch at Midland Counties Champ Show 2009
1st Minor Puppy Bitch at WCGB open show October 2009
1st Minor Puppy Bitch at Gundog Society of Wales Champ Show 2009
1st Puppy Bitch and BP at Kettering Open Show 2009
1st Minor Puppy Bitch at Driffield Champ Show 2009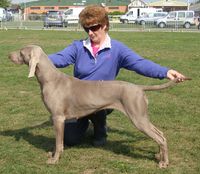 Sh Ch Risinglark Notorious

Sh Ch Gunalt Carter with Keaek JW

IR Sh Ch Ansona Kreighoff of Huntly

Sh Ch Gunalt Harris Tweed

Sh Ch Czersieger Clever Clown

Sh Ch Gunalt Carter with Keaek JW