"PARKER"
Kalimor Parker JW 1 CC hips 4.5
Born 28/09/2018
Sh Ch Gunalt Academy of Raystans JW ShCM ex Kalimor Lily JW
Scroll down for his show wins and pedigree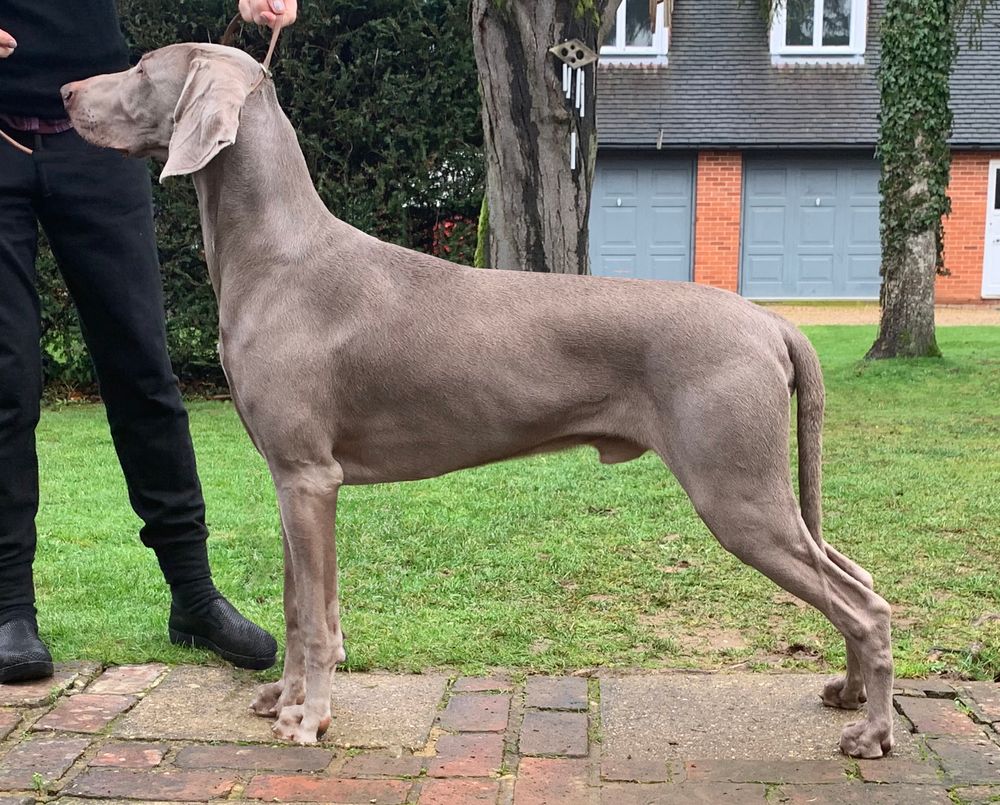 Parker lives with and is loved by my cousin Debbie Randall and is first and foremost a much loved family pet. He turned into such a handsome lad with a gorgeous character that we decided to show him. As you can see from his results below he has done extremely well indeed.
Show results :
1st Yearling Dog at Crufts 2020
1st yearling dog at Boston Champ Show 2020
2nd Yearling Dog at Manchester Champ Show 2020
1st J,PG and Open and BOB at Coventry Gundog Open Show 2019
1st Yearling and Graduate at Weimaraner Club of Scotland Champ Show 2019
1st Junior & Graduate & res Best Dog at Weimaraner Association Open Show 2019
1st Yearling, Post Graduate & CC at Gundog Breeds of Scotland Champ Show 2019
1st Open at Mid Herts Gundog Open Show 2019
1st Puppy 2nd Junior at WCGB Open Show 2019
1st Junior at Darlington Champ Show 2019
2nd Junior at E Anglian Gundog Open Show 2019
2nd Junior, 1st Graduate at WCGB Champ Show 2019
2nd Junior, 1st Novice at Bournemouth Champ Show 2019
1st Junior at Windsor Gundog Open Show 2019
1st Puppy & BP at Bedford and Dis Open Show 2019
1st Junior at  Paignton Champ Show 2019
1st Puppy, BP, BOB and Group 2 at Leicester City Canine Open Show 2019
1st Puppy and Minor Puppy at Weimaraner Association open Show 2019
2nd Puppy, 2nd Junior, 1st Graduate at E of England Champ Show 2019
1st Puppy and BP at Newmarket and District Open Show 2019
2nd Puppy, 1st Junior at Windsor Champ Show 2019
1st Puppy, BP and BOB at S of England Gundog Open Show 2019
1st Puppy, BP and Group 2 at Redditch and District Open Show 2019
1st Puppy, 1s Junior, BP and Res BOB at Eastwood Canine Open Show 2019
​​​​​​​1st Puppy. 1st Junior & BP at East Anglian Gundog Open Show 2019
​​​​​​​1st Puppy, 1st Junior, BP and BOB at Windsor Gundog 2019
1st Minor Puppy, 1st Puppy, 1st Junior at Southern Counties Champ Show 2019
1st Minor Puppy, 2nd Puppy, 1st Novice at Weimaraner Association Champ Show 2019
​​​​​​​1st Puppy & BP at Herts & Essex Border Canine Open Show 2019
1st Minor Puppy,1st Puppy,1st Maiden,1st Novice and B P in Show at NEWS Champ Show 2019
Sh Ch Gunalt Academy at Raystans JW ShCM Hips 4.4

Sh Ch Gunalt Distinction for Brownbank JW

Sh Ch Gunalt Unstoppable from Mianja

Gunalt Idealist for Mianja

Gunalt Crazy About Flimmoric

Sh Ch Gunalt Rumours about Sybaris

Gunalt Adoptable to Ladwey

SH Ch/NZ Ch Carmellis Hot Dikkety Dog at Gunalt ( imp NZ)

Am Ch Graytsky's Smokin' in Havana

Sh Ch Gunalt Contradiction

Sh Ch Gunalt Glamour Girl