Kalimor Sebastian Hips 0.0      Born 07/05/2019
                   Sh Ch Gunalt Academy at Raystans ex Sh Ch Kalimor Ruby JW
Scroll down for details and pedigree:
Sebastian is a delightful pup and he went to live with Denise and Martin Sallows. This is what Denise has to say about him:
 "I met Tina about 10 yrs ago after taking my first beautiful Weimaraner,Merlin( Katelands Christmas ghost) to her ringcraft class. Over time I had thought that maybe one day I would like to have one of her babies. 
But all that seemed a very long way a way. 
Last May we had to make the awful decision to let Merlin be put to sleep after nearly 12 years. 
I phoned Tina to tell her Merlin had passed and asked if maybe in the future she had a litter planned (we were going to have a little break and have some holidays abroad) 
Dear Ruby had just two days before hand given birth to 5 big beautiful babies ( I didn't know this) 
Well you can guess what happened......no holidays abroad. 
Sebastian came to us 8 weeks later 
He's a constant joy to us ( well most of the time) 
He has the sweetest nature, so wants to please and doesn't like being on the naughty step. He loves cuddles and hide n seek 
Although only lightly shown he qualified for Crufts 2020 and has been placed in champ and open shows. Unfortunately he could not attend Crufts because he caught a tummy bug.
He loves being in the ring and having the attention. He stands like a rock and enjoys it all 
He's also a photo bomber and has made appearances in my fitness videos.....down dog being his best position 
Thank you Tina for letting us have him and thank you dear Ruby for having him. 
Hopefully we will return to the show ring soon"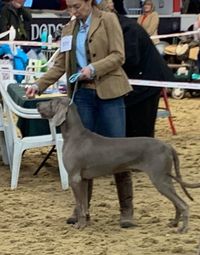 Sh Ch Gunalt Academy at Raystans JW ShCM Hips 4.4

Sh Ch Gunalt Distinction for Brownbank JW

Sh Ch Gunalt Unstoppable from Mianja

Gunalt Idealist for Mianja

Gunalt Crazy About Flimmoric

Sh Ch Gunalt Rumours about Sybaris

Gunalt Adoptable to Ladwey

SH Ch/NZ Ch Carmellis Hot Dikkety Dog at Gunalt ( imp NZ)

Am Ch Graytsky's Smokin' in Havana

Sh Ch Gunalt Contradiction

Sh Ch Gunalt Glamour Girl